Venngage Newsletter Creator
Design a beautiful visual newsletter for your upcoming events or email marketing campaign with Venngage's Free Newsletter Creator!
Not a designer? No problem. With our easy-to-edit newsletter templates and drag-and-drop free Newsletter Creator tool, anyone can create an amazing visual newsletter in minutes. Over 40,000 businesses use and trust Venngage to make professional newsletters.
Create newsletters easily using Venngage's online templates and free newsletter maker
Professionally designed templates: We have a wide range of email newsletter templates for internal staff updates, marketing, healthcare, retail, nonprofits and more.
Diverse icons for better accessibility: Choose from over 2,000 diverse icons and illustrations to represent your diverse audience. Customize skin tone on select icons, too.
One-click branding: Add and apply your brand colors, fonts and logo. Apply your brand colors with one click using My Brand Kit.
Export to HTML: Click any element in our templates to add a hyperlink. Then, click Export to HTML and add it to your existing email publisher.
How to make a newsletter in Venngage:
1
Join Venngage for free using your email address or Gmail or Facebook account.
2
Pick one of our free or paid professional newsletter templates.
3
Edit the text. Add your brand colors, fonts or logo.
4
Choose from thousands of free professional stock photos, icons and illustrations.
5
Download your newsletter as an image. Or export to HTML for a clickable email campaign.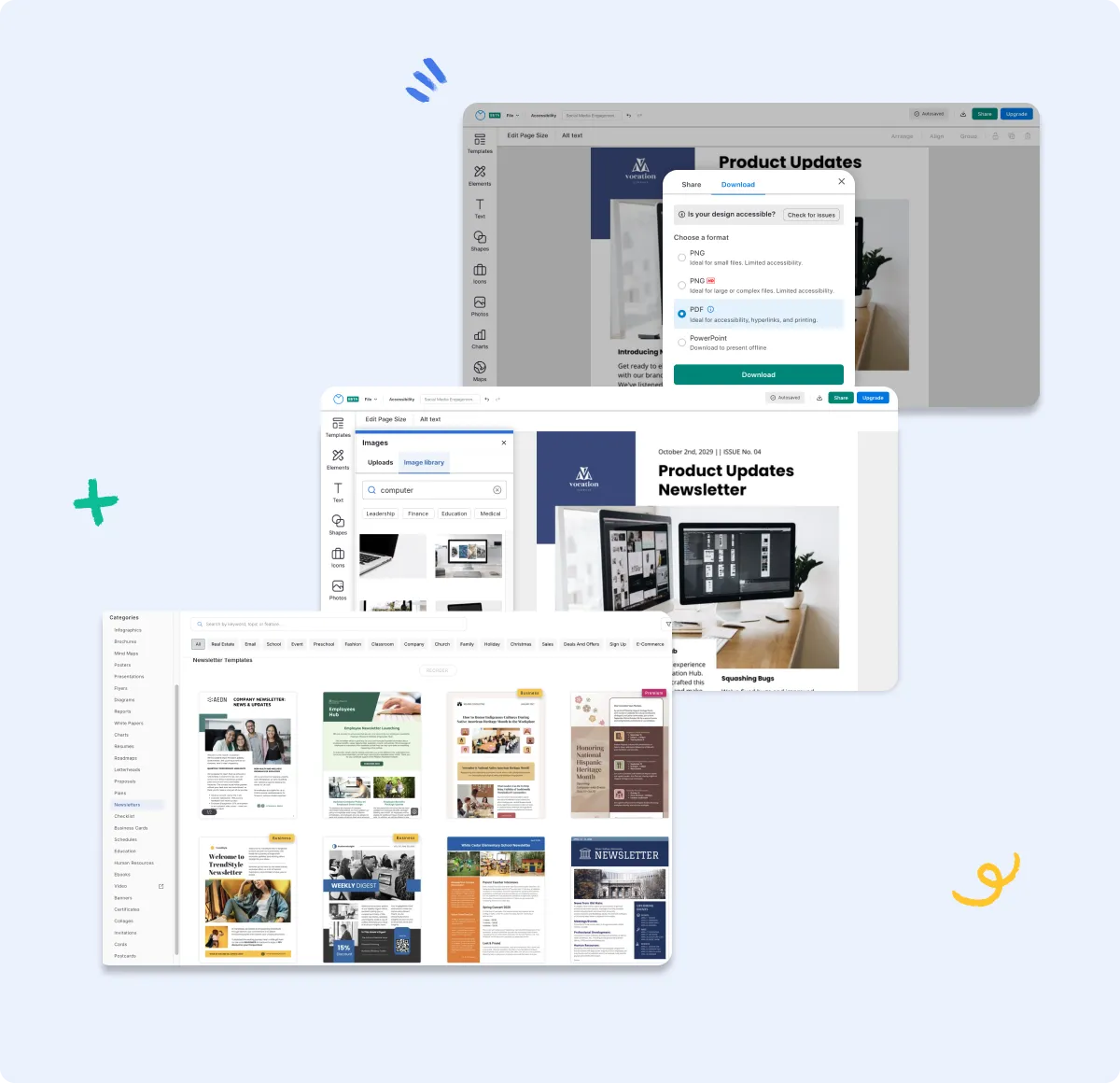 Design a beautiful online newsletter for your audience with Venngage:
Customizable Newsletter Designs
No need to start from scratch — just pick a professional newsletter template, customize it with your content, data and company info, and export it in the format you need!
User-Friendly Editor
Venngage's free newsletter maker is easy to use. Add, remove or drag and drop design elements like images, icons and illustrations as you need. Double click an image or icon to replace it with a new one.
Download or Export to HTML
Upgrade to a paid plan to download your newsletter in multiple formats. Export it as an image file (PNG), document (PDF), or an HTML file.
Data Visualization Options
Have data you want to visualize? Just go on Venngage's free newsletter creator, choose a chart or graph style, then add your data manually or upload it through a CSV file.
Instant Support
Got a question? We're here to help. Our support team is always around to help your team excel at their designs.
Royalty-Free Stock Images
Access 3+ million stock photos with Pixabay and Pexels integrations to elevate your newsletter design. Venngage's simple interface makes it easy for you to add and remove photos as you need.
FAQs
How do I sign up for Venngage?
Sign up for free using your email address or Google or Facebook account. No credit card required.
How much does Venngage's Newsletter Creator cost?
Anyone can create a newsletter for free and share a public link. Premium templates, team features and export to HTML require a Premium ($19/month) or Business ($49/month) plan.
Can I share and download my newsletter?
It's free to share a public link from our online newsletter generator. Upgrade to download your work as an image or HTML file.
Create an amazing email newsletter today, no design experience required
CREATE NEWSLETTERS
Get started with one of our top newsletter templates: