Create a compelling case study design with Venngage's professional case study templates
GET STARTED NOW
Tell a story and present your data with a beautiful case study that converts.
Create an engaging case study to showcase your brand
Convert leads to customers with an eye-catching case study. Case studies are an effective way to position your business as an authority on a subject. Or show how your product or service solved a problem for customers. Still, designing a case study takes a lot of time, especially if you have very little design experience. Venngage's design software is built for non-designers, so consultants and businesses can create professional case studies with a minimum of fuss. Pick a case study template, edit the text, change the colors, drag and drop in additional photos or elements and you're ready to publish and go. With our powerful online graphic design software, the ability to create a completely customized and compelling case study is in your hands.
Create a case study in 5 steps:
Sign up for Venngage with your email, Gmail or Facebook account.
Choose one of our professionally-designed case study templates and try it for free.
Edit the text boxes to include your title, executive summary, core problem, solution and results. Delete the sections you don't need.
Brand your case study template by importing your brand colors, fonts and logos using your Brand Kit.
Share your finished case study on social media or download it as a PNG or PDF file.
Make your case study stand out with these easy steps:
Use a case study template to get started in minutes
Choose one of our stunning case study templates. We've done all the tough design work for you!
Choose from 1,000s of free high-quality images + image upload to make your design stand out
Venngage users can now access the Unsplash library, the best source for free professional stock photos.
Use your brand color palettes to reflect your brand identity
Save your brand colors using My Brand Kit and add them to your case study instantly.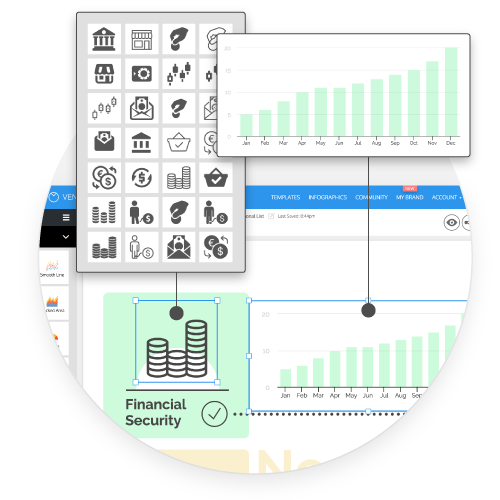 Add icons to your designs to highlight measurable metrics that show success
Choose from our thousands of modern icons to add visual impact to your ideas.
Collaborate on your case study
Share your case study with team members and get feedback instantly. It only takes one click. Approve multiple people to edit your case study, too. Our powerful team features even let you save case study templates for future use.
High-quality PDF and PNG export for print
Export your case study as a high-res file with our Business plan. Add it to your project to immediately draw in your audience and quickly communicate your idea. Our PNG HD option automatically optimizes your case study for print—think crystal clear, never
Share directly to social media
Captive your social media audience with an eye-catching case study made using Venngage software. Publish your case study on Facebook, Twitter, Pinterest or LinkedIn with one click and impress your audience with its professional design and easy-to-understand layout.
COMMON QUESTIONS:
What is Venngage?
Venngage is one of the world's leading online case study and graphic design softwares, with over one million users. Our online design tool makes it easy for non-designers to create professional case studies, infographics, white papers, presentations and more.
How can I make a case study with Venngage?
Simple. Sign up for Venngage with your email, Gmail or Facebook account. Then, select one of our professional case study templates and edit the text. Swap in new icons, colors and photos, if you wish. Delete any sections of the template you don't want.
Can I share and download my case study?
Yes! Send your design directly to Facebook, Twitter, Pinterest and LinkedIn or download your business case template to your hard drive as a PNG or PDF.
Did not find a template you liked? Sign up to be alerted about all the new templates here!
More Case Study Templates: